If you live in Dorset and live in the country side you might be wondering about what options you have when your old boiler comes to the end of its life.
There are a multitude of options to have to consider,
1, Future running costs.
2, Capital outlay on a new system.
3, Life span of a new system.
4, Servicing and maintenance costs etc.
Technology moves so quick that if you make the wrong decision, it could be one that you regret and could cost you more in the long time.
There are three main sources of energy we can easily use, Gas, Oil, Electricity.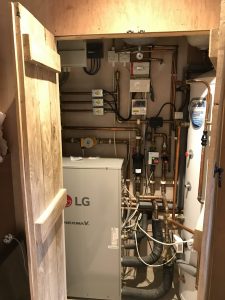 When living in rural Dorset the options of mains gas can be hit and miss. Oil systems are very common in rural parts of dorset and have for the most part been used for years with the life span of the common oil boiler being 15 years with a good service plan.
With the introduction of air source heat pumps, it gives the dorset rural home owner another option that a company like ours is able to offer.
Air source heat pumps offer an alternative future of lower maintenance costs and as long as the home is well insulated low running costs.
If you are interested to hear more about your alternative heating future, give us a call on 01202 675393 and we would love to meet you to discus a new system and provide a quote.